Type-X Pro LED driving lights (PAIR)

KWD 249.000
Distance: 1155m
Raw lumens: 26,270(Pair)
Brackets included
1 x Smart High Beam Wiring Harness DTP-2 Sealed Connectors, H4, HB3 adapter plugs to high beam. 60A Relay, Fuse, Switch
5 years warranty protection
In stock
Description
THE PRO STANDARD.
With the introduction of our PRO Edition, we are yet again redefining the auxiliary driving light category. Our all-new Type-X™ PRO edition epitomizes our commitment to maximizing light output and reliability at levels that surpass the most respected players in the industry.
1.15KM BEAM THROW.
Using the latest optic simulation modeling, the reflector geometry was tweaked over and over again to achieve a highly functional beam pattern. An astonishing beam throw coupled with a homogeneous wide beam will have you insist on driving only when the sun's down.
A WOLF IN WOLF'S CLOTHING.
Forget folded steel brackets, it's all yesterday's news. The Type-X™ PRO is all about pushing boundaries. The bracket system is a 10mm thick high-pressure die-cast aluminum marvel of engineering. Our Type-X™ PRO bracket was designed to withstand extreme and prolonged corrugations time and time again. True to STEDI's signature design principles, we've added brushed stainless steel shoulder plates, which will look just as comfortable on a tricked-out 70 series as it will be mounted to a PRO race buggy.
LUX GRAPH

DIMENSIONS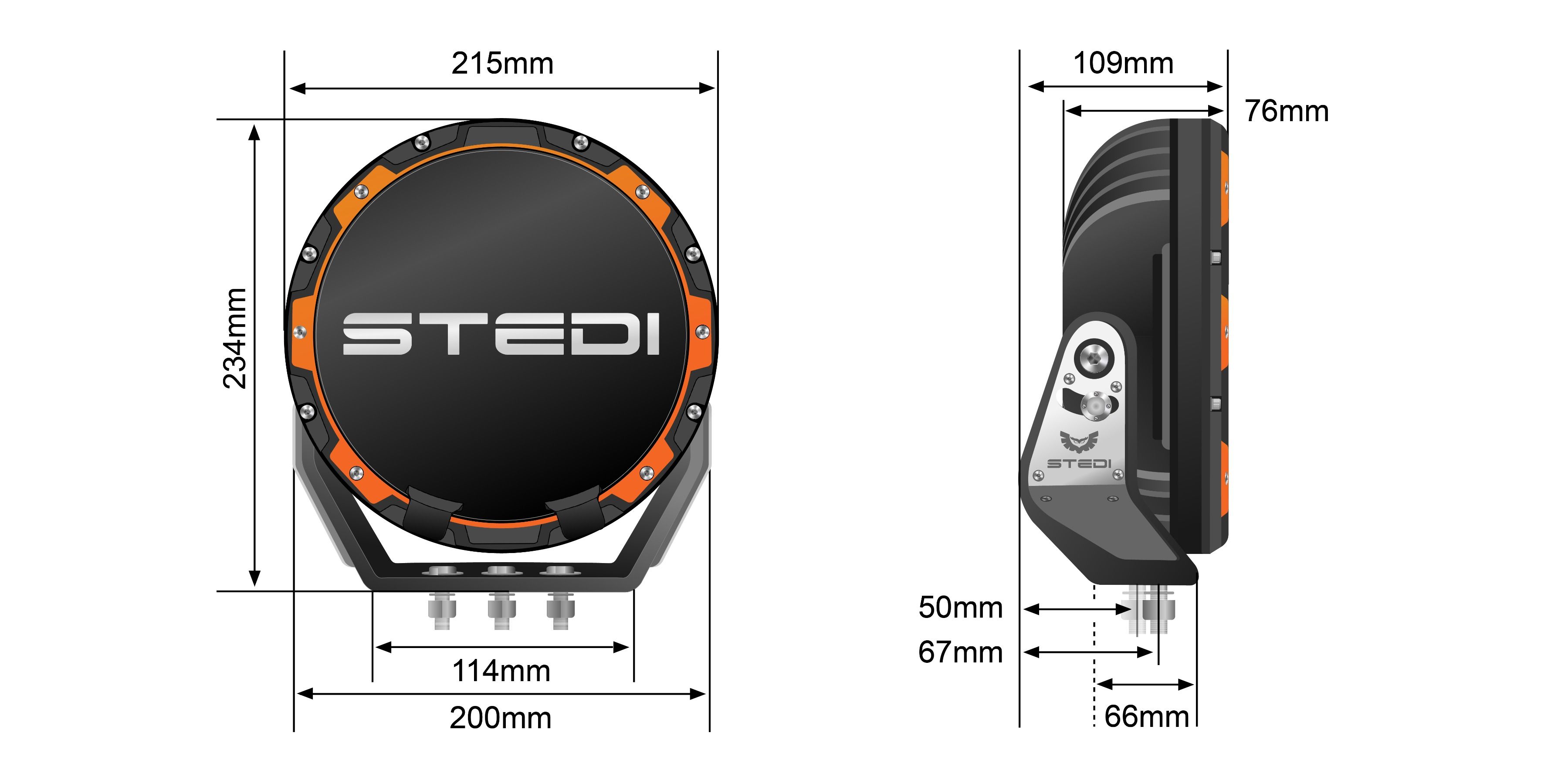 ALWAYS ON THE CUTTING EDGE.
Cutting edge performance starts with cutting-edge LED technology. To achieve genuine category-leading performance our Type-X Pro is equipped with 37 x Oslon High-Flux LEDs, selected for having the #1 highest lumen density per mm2 of any other comparable LED on the market. Compared to the two other leading spotlights brands' similar offerings, the LEDs used in Type-X PRO have + 23% and +42% higher lumen density per mm2 in comparison. The net result is higher net light volume and unrivaled beam throw.
A WOLF IN WOLFS CLOTHING
The hard-coated optical grade lens shares the same DNA as ballistic glass making it virtually indestructible. A UV stabilizer has also been added to ensure our lenses truly withstand the test of time with no discoloring or UV degradation. This has allowed us to do away with any secondary lens covers or filters which are known to significantly reduce light transmission.
ICONIC PERFORMANCE
Using the latest optic simulation modeling, the reflector geometry was tweaked over and over again to achieve a highly usable beam pattern. No doubt the attention grabber is the unrelenting beam distance of 1,155m (tested in pairs, combo beam), however, the real strength of our Type-X PRO is in mid to long light distribution that really sets it apart.
Our key focus was on driver confidence, by increasing the beam throw the driver has a longer analysis time. We maximized driver comfort by smoothing out the beam eliminating shadows. We reduced the light wasted in unimportant zones like treetops and immediately in front of the vehicle. The result is a homogeneous, unrelenting beam that will support you well in any adventure.
, Unlike our competitors, each Type-X PRO lamp has 6 built-in flood reflectors for improved light distribution out into the road shoulders. The built-in wide-beam reflector eliminates the need to add any wide beam covers, which are not only less efficient at distributing light, covers also withhold valuable light transmission.
(Registered Design Number 201814836 & Registered Trademark).
Tech Specs
LED
37 x Oslon High-Flux LED
RAW LUMENS
26,270 (Pair)
TESTED LUMENS
15,870 (Pair)
AMP DRAW 
10.4A @ 13.2v (each)
POWER DRAW
137W
CANDELA
1,334,025cd
BEAM PATTERN
6 x Spread 31 x Pencil Beam
INGRESS PROTECTION
IP68 | Submersible up to 3m
COLOUR TEMP (CCT) 
5700K
VOLTAGE COMPATIBILITY 
12v & 24v
LUMEN MAINTENANCE 
50,000 LM-80
WEIGHT
2.860kg (each)
PHOTOMETRIC DATA
10 m
13,340 Lx
50 m 
533 Lx
200 m
33 Lx
300 m
14 Lx
400 m
8 Lx
1,000 m
1.3 Lx
1,155 m
1 Lx
What's Included
2 x STEDI Type-X PRO LED Driving Lights
2 x Protective STEDI Black Out Covers
2 x Grey Colour Rings
2 x Orange Coloured Rings
1 x Smart High Beam Wiring Harness DTP-2 Sealed Connectors, H4, HB3 adapter plugs to high beam. 60A Relay, Fuse, Switch
Complete Stainless Steel fastener kit.
Wiring & Fitting Instructions
Additional information
| | |
| --- | --- |
| Weight | 10.4 kg |
| Dimensions | 57 × 40 × 16.5 cm |
| Brand | |