ST3301 PRO 18.6 INCH 12 LED LIGHT BAR
KWD 75.000
Distance: 475.4mm
Lumens: 10, 320Lm (RAW)
Brackets included
Quick Fit High Beam Wiring Harness 12v Relay, Wiring Kit and On/Off Switch
5 years warranty protection
In stock
Description
BUILT TO SHINE
Our ST3301 Series 18.6 Inch LED Light Bar is designed to offer a high volume of light in the mid-range, with excellent visibility on the road shoulders. Compared to bars like our ST4K & ST3K (which have a longer beam distance but slightly less brightness in comparison) our ST3301 forms a larger diameter spot which blends homogeneously with its wide beam. The ST3301 range is perfectly suited for the customer that is concerned about wildlife running out from the road shoulders or those who need a huge amount of brightness and coverage in the mid short and mid range.
SUPERIOR DESIGN. EXEMPLARY INNOVATION
We thought that it would be time to take things up a notch! The STEDI ST3301 exemplifies the innovation that STEDI is known for, by making advancing strides on the popular ST3300 series. In addition to our revised reflectors, the ST3301 18.6 Inch showcases our improved lighting technology, all within a slick new look. The ST3301 18.6 Inch houses 12 x CREE™ XLamp XM-L2 LEDs, built to deliver a breakthrough lumen output. Oh, and did we mention colour temperature? We've achieved a strong yet neutral beam character, which maintains a pleasant temperature of 5500K. If you are hoping to dramatically lift your lighting game, then look no further.
ULTIMATE ILLUMINATION
Our ST3301 builds from the character of the ST3K and ST4K, by offering a higher Lumen output with an excellent mid-range volume. The ST3301 packs a greater punch than its predecessor when it comes to light penetration, offering a light reach of up to 390m at the 1 Lux mark. With this increase of light, we also managed to maintain a streamlined design, keeping the weight of the 18.6″ Bar at 2.11kg.
LUX GRAPH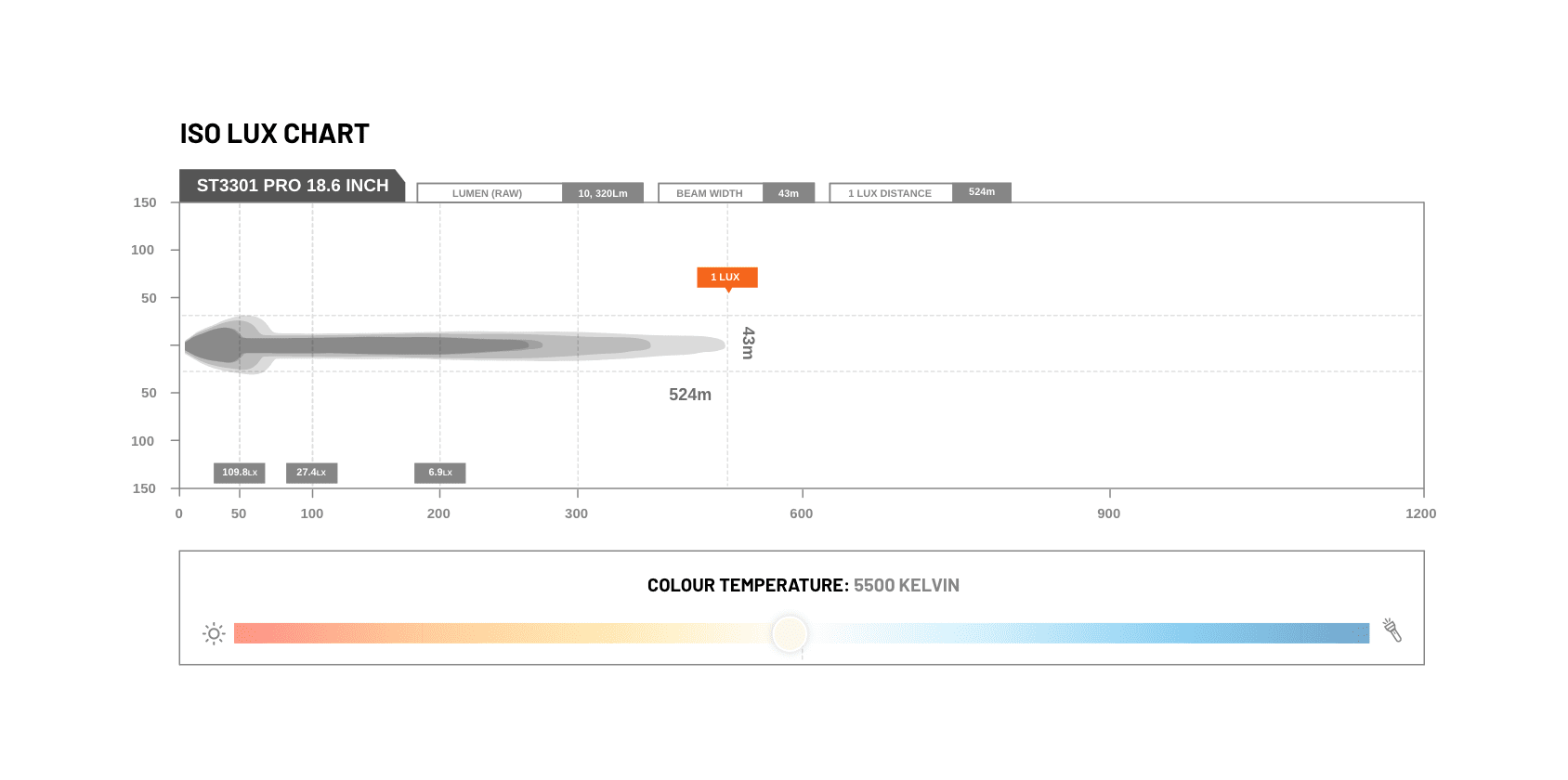 DIMENSIONS

Unmistakable performance. Unmistakably STEDI.
For almost a decade, the name STEDI has stood for cutting-edge design and market-leading performance. STEDI has continued to keep at the forefront of LED lighting, making STEDI the leading brand born right here in Australia. Unquestionably, ST3301 PRO sits at the pinnacle of the STEDI offering. A pure expression of capability and design that converges with brutal performance, making the all-new ST3301 PRO a quintessential component for any LED aficionado.
KEY TECHNICAL BREAKDOWN
Ingress Protection IP68 (Backed by a certificate of conformity),
Coordinated Colour Temperature 5600K – Excellent colour contrast.
Flood/spot/flood combination with 12 x LEDs
2 Flood + 8 Spot + 2 Flood Reflector Distribution
Tough GE Lexan primary lens which 250 times the impact-resistant strength of glass and 30 times stronger than acrylic Poly-carbonate.
Waterproof Deutsch DT Connector
Adjustable Slide mounts and stainless steel side brackets included.
Guaranteed against electromagnetic (EMC) and radio frequency (RFI) interference
TECH SPECS
| | |
| --- | --- |
| Lumen | 10, 320Lm (RAW) |
| Peak Intensity (Candela) | Coming Soon cd |
| Operating Voltage | 10-45V DC |
| Waterproof Rate | IP 68 |
| LED | 12 x OSRAM™ |
| Colour Temperature | 5600K |
| Material | Die-Cast Aluminium |
| Lens | GE Lexan™ |
| Mounting Bracket | Aluminium |
| Bolts and FIttings | 3 Series Stainless Steel |
| Flood Beam Angle | 45° Degrees |
| Spot Beam Angle | 11° Degrees |
| Lumen Maintenance | 50,000 LM-80 |
| Weight | 1.925kg |
| Current Draw | Coming Soon 6.6A @ 13.6v |
WHAT'S INCLUDED
ST3301 18.6 INCH 12 LED LIGHT BAR
Stainless Bolt and Nut Set
2 x Adjustable Sliding Lower Mounting Brackets + Stainless Steel Side Brackets
Quick Fit High Beam Wiring Harness 12v Relay, Wiring Kit and On/Off Switch
HB3 and H4 Piggy Back Adaptors
Additional information
| | |
| --- | --- |
| Weight | 3.3 kg |
| Dimensions | 69.5 × 14 × 12 cm |
| Brand | |
Related Products