52 INCH ST4K 100 LED DOUBLE ROW LIGHT BAR
KWD 169.000
Distance: 1050m
Lumens: 24,000Lm
Brackets included
Easy-Fit High Beam Wiring Kit | HB3 & H4 piggy-back included.
5 years warranty protection
In stock
Description
PINNACLE OF PERFORMANCE
By harnessing the power of PURE Drive™ technology, our range of STEDI ST4Ks are made to take full advantage of the input power, with 97% going straight to the LEDs.
JACK OF ALL TRADE
The ST4K 52 Inch LED Light Bar brings together the strengths of both spot and flood reflector distributions, to provide an amazing 1,025m delivery, with 55m on each side of the vehicle with the flood beam.
AN ENVIABLE PEDIGREE
The STEDI ST4K has been founded on the STEDI TYPE X pedigree; the exemplar of high-performing Driving Lights. With the might of 100 x OSRAM's® OSLON® LEDs, the ST4K 52 Inch LED Light Bar will not shy away from the ability to be the perfect all-rounder for any situation.
LUX GRAPH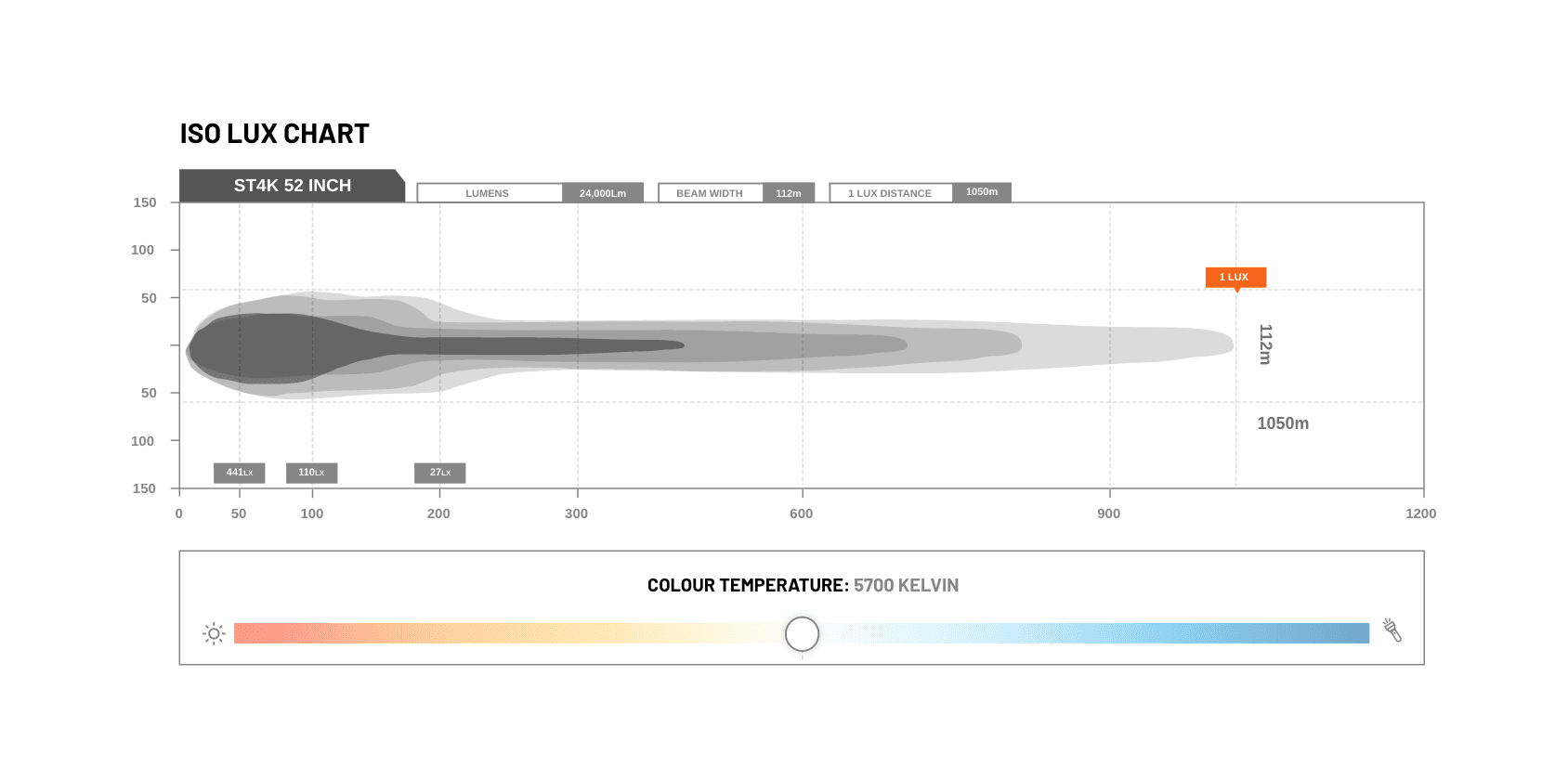 DIMENSIONS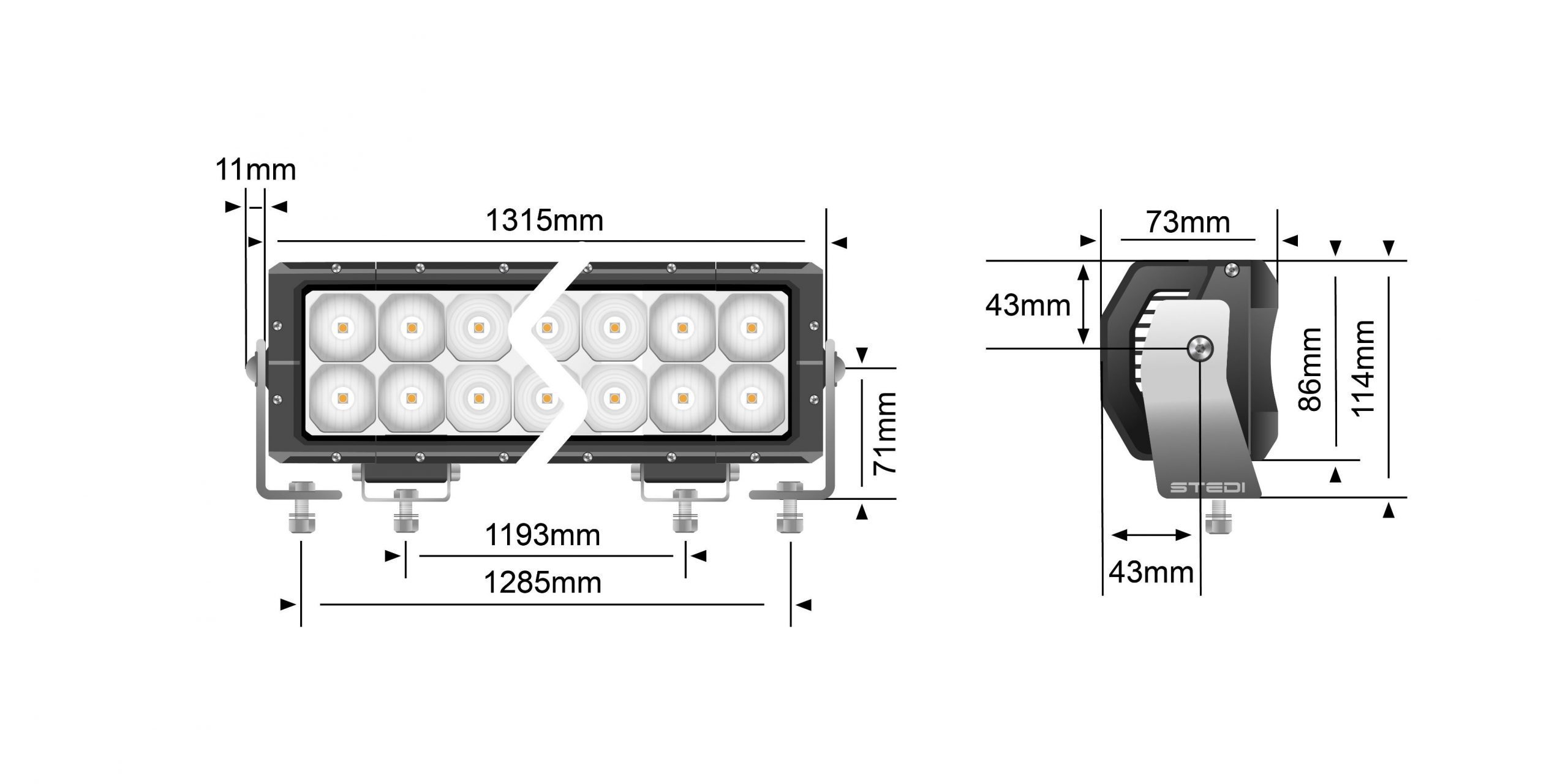 PERFORMANCE THAT LET'S YOU TURN THE SUN BACK ON
STEDI ST4K-100 features 100 of OSRAM's® finest OSLON® LED, selected for its high luminous flux and perfectly match optical properties.
16 Flood + 68 Spot + 16 Flood reflector distribution forms a remarkable beam that pushes the wide beam out at 50° and spot beam at 5.8° all the way to staggering 1 lux @ 1,050m
Crystal White 5700K Colour temperature offers stunning clarity and definition with excellent Colour Rendering Index (CRI).
Our Pure-Drive™ circuit design allows 97% of input power to go directly to LEDs.
BUILT TO GO ALL NIGHT
A360.0 Cast face plate extruded Aluminium heat sink| finished in 100% Polyester UV and abrasion resistant powder coat, ensures that our bars will never discolour.
Pressure Equalization vent with Gore® membrane | Protects against water ingress, dust & contaminants.
IP68 | Dust & Particle tight + Water-proof up to 3 meters – Drown it, we insist!
Environmentally sealed Deutsch ® DTP connector.
Backed by our no-nonsense 5-year replacement warranty.
MOUNT IT YOUR WAY
We know you want flexible mounting options, which is why we've included two separate mounting options.
The included adjustable sliding mounts allow you to align the mount bolts to any pre-existing mounting holes. Make mounting to UHF tabs or Bull bar dech very straight forward.
Or use our 3mm thick 304 Stainless steel side brackets, which feature + or – 15mm height adjustment.
EASY-FIT Plug & Play High Beam Wiring Harness included.
Included is our acclaimed Easy-Fit Plug and Play Wiring Harness with supplied H4 and HB3 Adapters, making for an easy connection to high beam. Further unlike other brands, our kit has built-in electronics making our harness compatible with even the most modern and sophisticated wiring systems. Whether your vehicle is positive or negatively switched our harness will work right out of the box without any modification whatsoever.
TECH SPECS
LED MANUFACTURER
OSRAM (Oslon) ®
LED COUNT
100
VOLTAGE
12V & 24V
LENS MATERIAL
OPTICAL GRADE, HARD COATED LEXAN
LUMENS
24,000 LUMENS
PEAK INTENSITY (CANDELA)
1,104,000cd
HOUSING MATERIAL
A360.0 Cast face plate, extruded Aluminum heat sink
AMPERES
23.4.2A @ 13.6v
LIFESPAN
50,000
FLOOD BEAM
50°
SPOT BEAM
5.8°
INGRESS PROTECTION
IP68
OPERATING TEMP
–

-40°C to 60°C

WEIGHT
6.620kg
WHAT'S INCLUDED
1 x ST4K-100 STEDI Oslon LED Light Bar
2 x Brushed Stainless Steel Side Brackets
3 x Adjustable Sliding Brackets
Easy-Fit High Beam Wiring Kit | HB3 & H4 piggy-back included.
Cable Ties
Wiring Instructions
Additional information
| | |
| --- | --- |
| Weight | 7.8 kg |
| Dimensions | 152 × 14 × 12 cm |
| Brand | |