FESTOON 36MM LED BULBS (PAIR)
KWD 7.000
Lumens: 109 Lm
Pair
24 month warranty protection
In stock
Description
OVERVIEW.
Our Festoon 36mm replacement LED globes are the solution for converting the inside lighting to your car to a pure white, brighter light. Commonly found in dome and trunk/boot lights, the Festoon LEDs are an easy installation that will replace the dull, yellow factory globes.
INTERIOR LIGHTING.
Once you have done a headlight LED Conversion, you will find yourself itching to do the rest of the car. Leave no stone unturned by fitting your vehicle with the relevant globes to make the inside as impressive inside as it is outside.
APPLICATION.
The Festoon Globes are not as widely covered throughout vehicles as the popular T10 globes but you will likely come across a few fitted in your vehicle. 28mm is the smallest size we carry but also the more common of the specific type. Generally can be found in dome lights in the cabin as well as trunk/boot lights as they often follow the same design as the dome. Number plate, Vanity, and Courtesy lights are also well known to carry this globe.
DIMENSIONS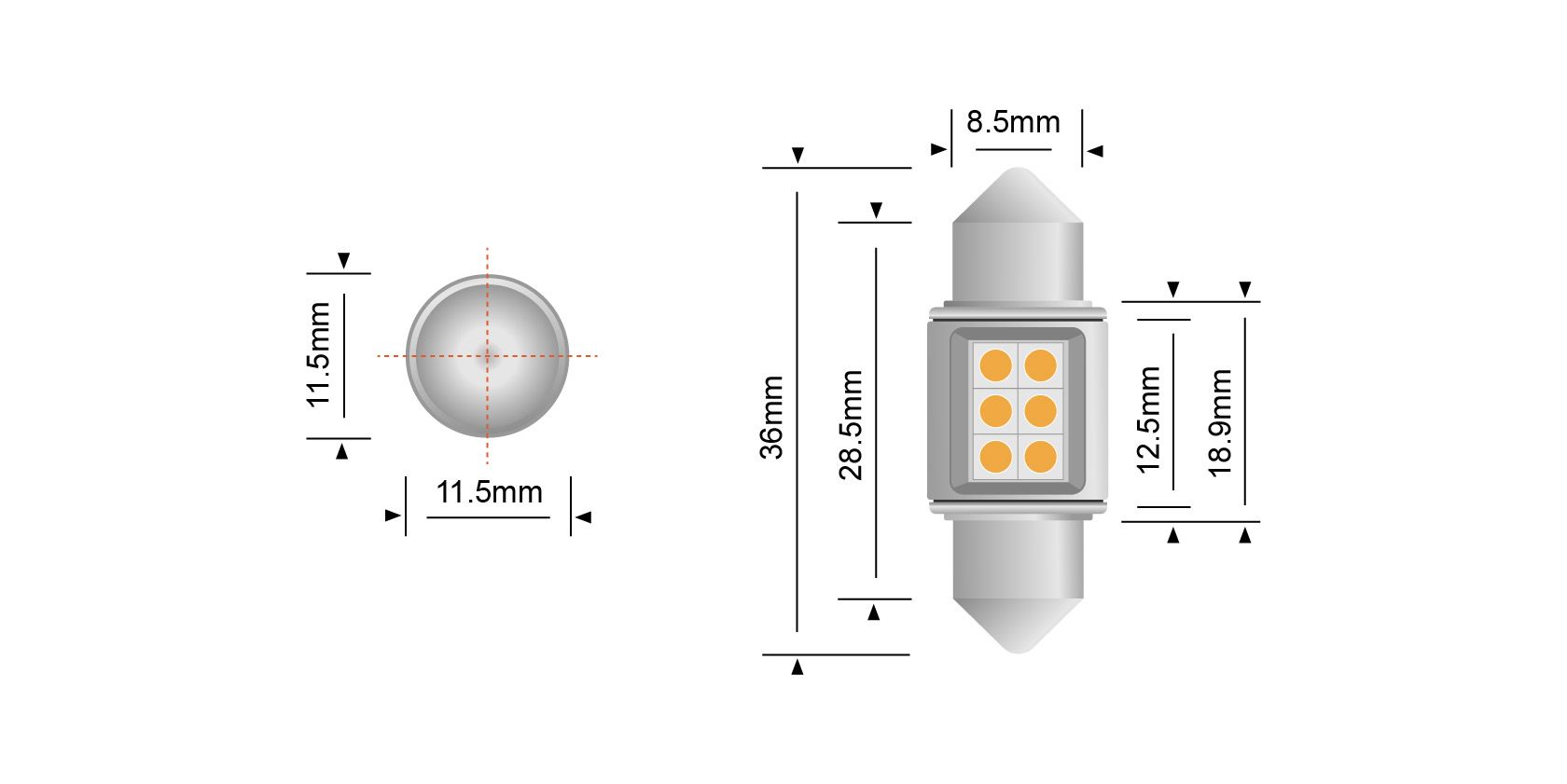 KEY TECHNICAL FEATURES | SJ-3014 36MM
Not Polarity Sensitive – our SJ-3014's wont fail if you plug them in the wrong way.
Constant Current circuit – Avoids compromising LED life & provides consistent illumination across all LEDs
Compatible 12v circuits.
12SMD LED for uniform light distribution
COMMON USES FOR FESTOON GLOBES
Interior Dome Lights
License Plate Lights
Boot Light
Sold in packs of 2
TECH SPECS
| | |
| --- | --- |
| HOUSING MATERIAL | Aluminium |
| LED | 3014 |
| LUMINOUS FLUX | 109 Lumens |
| POWER | 0.148 A @ 13.6v |
| COMPATIBLE VOLTAGE | DC 12v |
| LIFESPAN | 30,000 Hours |
| CONNECTOR TYPE | SJ-3014 |
| INGRESS PROTECTION | IP65 |
| OPERATING TEMP | -40°c to + 80°c |
| CERTIFICATION | CE, ROHS |
| RENDERING INDEX | 74 CRI |
WHAT'S INCLUDED
2 x STEDI SJ-3014 36MM LED Lights
User Instruction Manual
Related Products