CURVED 40.5 INCH ST2K SUPER DRIVE 16 LED LIGHT BAR
KWD 155.000
Distance: 606m
Lumens: 16,000 Lm
Brackets included
Easy-Fit High Beam Wiring Kit | HB3 & H4 piggy-back included.
5 years warranty protection
In stock
Description
OVERVIEW.
Hit the 'on' button and our ST2K-16L 40.5" Super- Drive LED light bar's motor-sports pedigree instantly becomes evident. Compared to traditional optical systems, our innovative Super-Drive reflectors system delivers unmatched light intensity at the mid to long-range.
PERFORMANCE.
The ST2K has been designed around the intention to provide a powerful flood beam with a suficient spot. The purpose of this style of beam is to pair up with a combo or spot beam and where the flood beam of the others tend to narrow off, the ST2K picks up and takes it out even further lighting up the shoulders of the road.
BEAM CHARACTERISTICS.
The unconventional use of 16 x 15W rearward facing high powered LEDs allows us to achieves new levels of beam intensity & control that simply isn't possible with traditional reflector designs. The beam characteristics are designed to start working past the point where your high beam ends. The mid to long range end of the beam opens to provide very effective spread illumination.
LUX GRAPH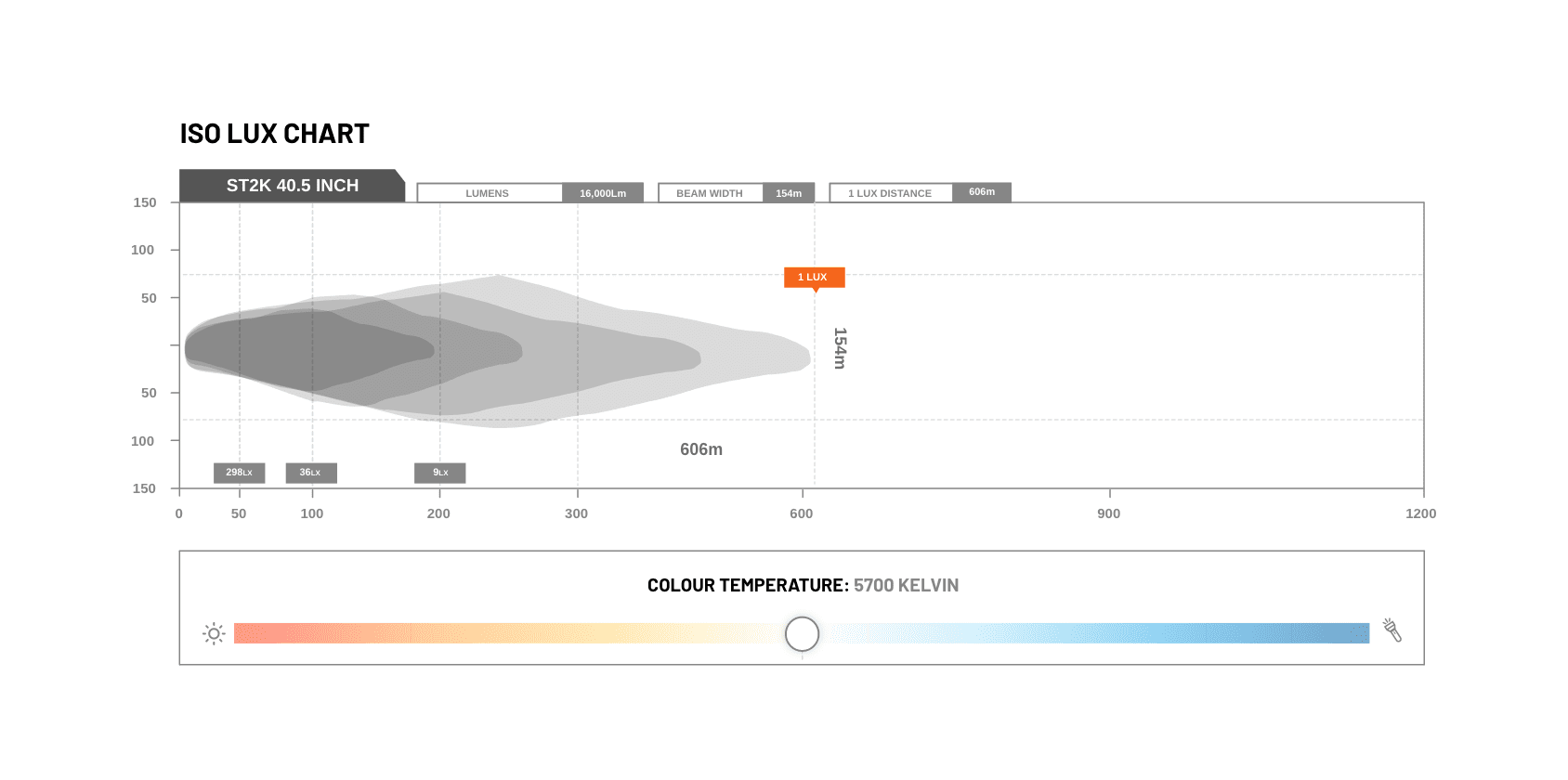 DIMENSIONS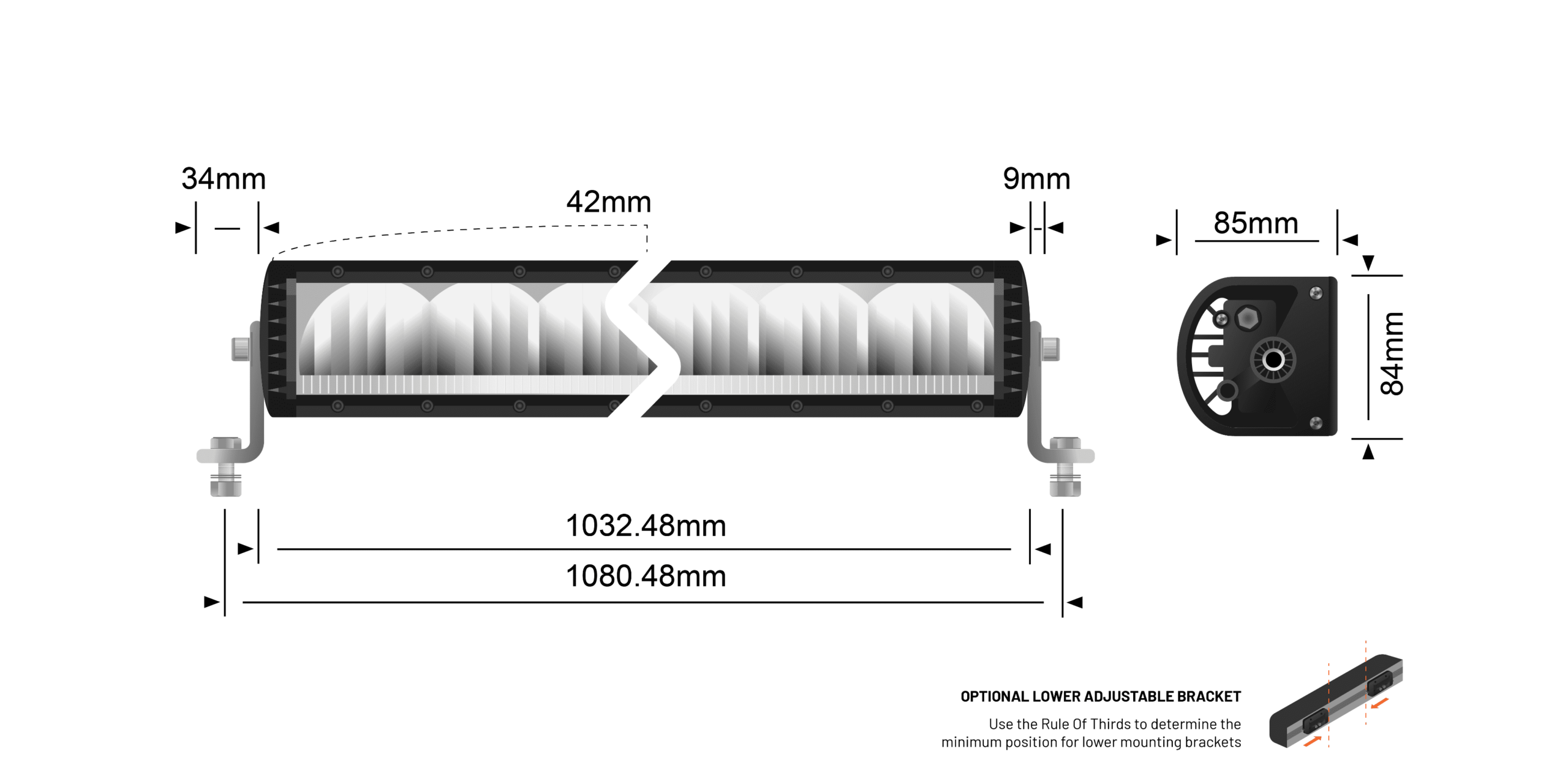 ADVANTAGES OF A LATERAL SPOT BEAM
Excellent well rounded mid to long-range illumination

Significantly minimizes adverse reflection from road signs

Eliminates light wasted on illuminating tree tops (won't disturb sleeping koalas)

An excellent alternative to HID, without the associated downsides

The beam is 90m wide at approx 250m
KEY FEATURES
LED Parking / Position Light Function

Breather allows pressure equalization when rapid heat up and cool down cycles occur.

Anodized Polyester Powder Coat

Weatherproof Deutsch® DT2 Connector.

Includes adjustable side brackets

Includes our Easy-Fit Plug & Play High Beam Wiring Harness with HB3 & H4 adapter (Compatible with both negative and positive switched vehicles.

Protected against reverse polarity

Shockproof, IP68 waterproof, UV Shielded

Protected against RFI / EMC Interference

Voltage & current surge protection

Pulse Width Modulation Thermal Management
TECH SPECS
| | |
| --- | --- |
| MAIN BEAM LED COUNT | 16 x 15W |
| VOLTAGE | 12V & 24V |
| LENS MATERIAL | OPTICAL GRADE, HARD COATED LEXAN |
| LUMENS | 16,000 |
| HOUSING MATERIAL | 6063 EXTRUSION |
| AMPERES | 16.1A @ 13.2v |
| LIFESPAN | 50,000 |
| SPOT BEAM | DRIVING BEAM |
| INGRESS PROTECTION | IP68 |
| OPERATING TEMP | -40ËšC ~ +150ËšC |
| WEIGHT | 4.795kg |
| CERTIFICATES | E-Mark R10 | CE √ |
WHAT'S INCLUDED
1 x 40.5″ ST2K-16L LED Light Bar
2 x Steel Side Brackets
Easy-Fit High Beam Wiring Kit | HB3 & H4 piggy-back included.
Wiring Instructions
Comprehensive 304 Stainless Steel fasteners
Additional information
| | |
| --- | --- |
| Weight | 7.10 kg |
| Dimensions | 117 × 18 × 14.5 cm |
| Brand | |
Related Products